Revit Standards & Templates

Revit Starter Standards
& Templates
The 3 keys to Revit productivity and consistency are standards, templates, & family libraries.
Your Custom Revit Standards & Template in 1 Week!
Save thousands of dollars and hundreds of hours and get your Revit Template and Standards in place! We built our Template and Standards documents with all the options! All you have to do is pick the options you want, remove the others, and fill in some blanks. Presto… your Revit Template and Standards are done!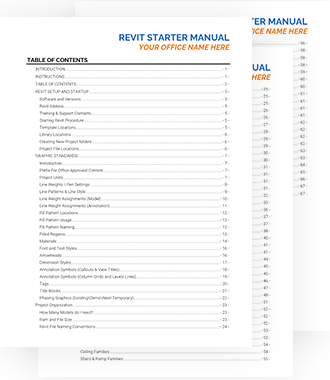 Revit Template and Standard Documents
$4,495
Template, Standard + 40-Hour Membership
$8,495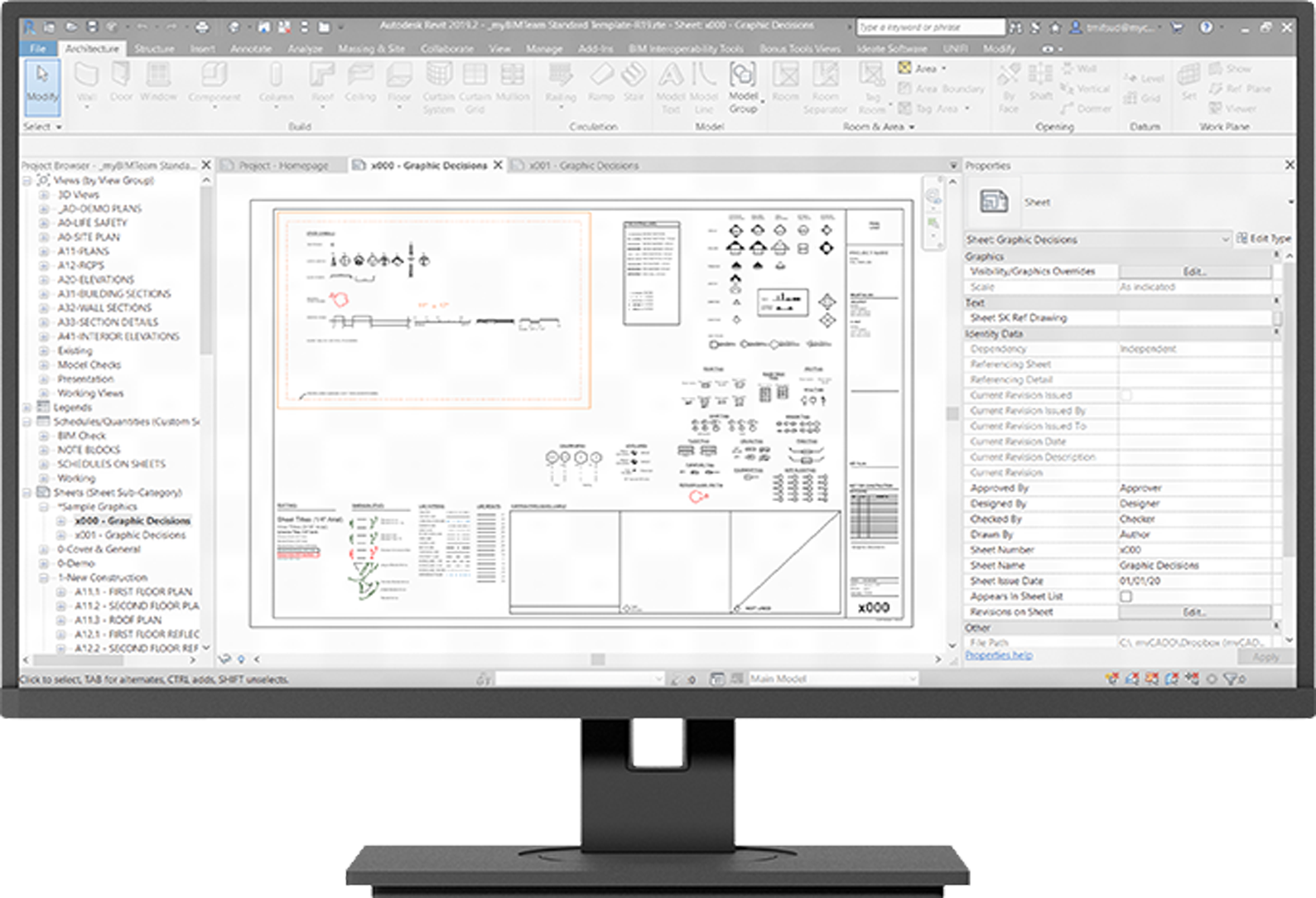 Our Starter Standards Document contains over 60 pages outlining all the key decisions and procedures related to using Revit effectively. To create your standards, you simply need to fill in the blanks and pick and choose from the various options provided.
Our Revit Starter Template was built alongside the standards document with matching content. See below for the list of what's included in the Template. To make this template your own its the same process. Review, decide which options you like, remove the other options, and make any desired tweaks.
This process does take a little time, so along with the Standards Document and Revit Template we've included a one month BIM Management 40 hour consulting membership. We will guide you through the entire process. For most, this is enough time to review, makes decisions about all the items included, and then update your template and document. Should need more time you can upgrade or extend the membership.
The next step after completing your template is to make sure your libraries of Building Components (families) and detail libraries has everything your staff need for your projects. Check out our Revit Family Libraries to kick start that process.
Standards = Consistency & Quality
Are you happy with the graphic output from Revit?
Are all your projects consistent?
Is it easy for your team to jump from one project to another?
If your answer to any of these questions is no, then you need to take a look at your standards. Better yet…save some time and look at our Starter Standards.
Your template establishes the following.
Graphic standards – Line Weights, Symbols, Text, Dimensions
Titlebock, Sheets, Legends, Schedules
Modeling components – Walls, Floors, Ceilings, Roofs, etc.
Let your staff focus on the design, instead of the drafting.
When you have a template & standards in place, EVERY person saves times on EVERY job.
Included in Your Revit Template
Project Units
Optimized Line weights (standard and alternate thinner option)
Line patterns & Styles defined by intended usage. (ie. floor level, grid, match, overhead etc.)
Line weights assigned to Revit categories (model and annotation)
Fill Patterns & Material Definitions by intended usage
Text styles by intended usage, Arrowhead choices, Dimension style choices
Callout choices (Elevation, Section, Detail, View Titles)
Column Grid and Level Line choices
Tag Options (Wall, Door, Window, Floor, Ceiling, Equipment, Room, Finish, Area)
Starter Title blocks for standard paper sizes and usages (CDs, Sketch, Presentation, Cover) – Your firm may have current titleblocks needs – we will ensure they work properly for the new Template.
Phasing Graphics – 3 options
Project Homepage\Starting View
Note Block symbols that can be used with demo drawings, equipment plans, etc.
Project Browser Organization options (Views, Schedules, Sheets)
View templates for each drawing type
Schedules (Door, Window, Finish, Drawing list & multiple BIM Check Schedules)
50 Wall Types (including curtain walls)
12 Floor Types
3 Roof Types
8 Ceiling Types
Stair and Railing Ramp Types
Structural Footing Types
Wall Rating Graphic options
Revit to CAD Export Settings