Revit and As-Built Modeling

Do you need Accurate Plans
of your Building?
Our team can build Revit Models to your standards from your sketches, PDFs, or CAD file.
For all our projects, we start with your templates, use your libraries, and follow your modeling best practices.
Templates
Libraries
Standards
Best Practices
Do you need updated plans of your building?
We can
build
Revit models from your;
Scans
CAD files
PDF's
SketchUp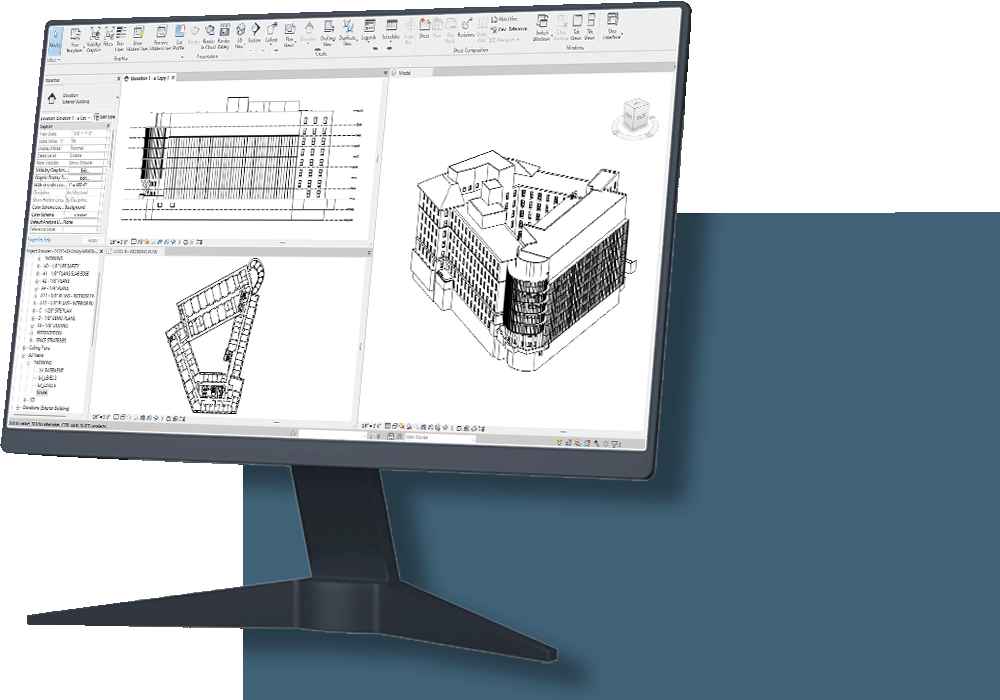 Do you need

Accurate Drawings

of your building or space?
Most building owners struggle with keeping Master Drawings and plans up to date and making them accessible to everyone who needs them. We will;
Collect and Review

/ approve / reject as-builts

Update

master library of models / drawings

Organize

master library – CAD, BIM, PDF, Point Clouds, Photos, Videos and Panorama Images

Standardize

– Develop CAD|BIM Deliverable requirements

Access

– Projects are accessible to anyone on the team through web-based systems with robust user permissions
Nothing to start from? Check out our Laser Scanning and Reality Capture services.
Send us your sketches, CAD files, scans, PDF's and Sketchup models.

Let's clearly define what needs to be modeled, how detailed it needs to be, and modeling best practices.

Send us your templates and libraries.

Optional – laser scanning and reality capture
We perform periodic internal Quality Control checks to ensure we have everything you need.

You are an integral part of the QC process. We'll send progress models for you to review and make any requested updates.

We only consider the project complete once you are happy with the model.
Your Revit model will be built with your templates, and libraries, and using your standards.
OPTIONAL – We can also provide plans, point clouds, 360° views, and dimensions.
Instantly accessible for your entire team in industry-leading Digital Twin Platforms.
It doesnt' matter if it's CAD or Revit, a single project or ongoing needs… 
Our team can be your team!
Contact our BIM experts to
start building your Revit model