At myBIMteam, we believe relaxation and team-building activities are essential to reach our full potential. Taking a break from the hustle and bustle of work responsibilities helps us build a more cohesive and positive company dynamic. Ultimately, the success of any client project first relies on quality communication and collaboration within our team.
That's why myBIMteam gathered in Florida for three full days of fun.
On day one, we went to Boggy Creek Airboat Adventures. While myBIMteam waited for our tour to begin, we learned our group could be quite competitive at Jenga and Connect Four. We will never know the outcomes of the games as Captain Patrick arrived to take us on an adventure to see the breathtaking wetlands of Kissimmee, FL. He pointed out wildlife, like the numerous alligators basking in the sun, and educated us on the thousands of birds that call this place home. Of course, when we finished the tour, we had to go souvenir shopping.
Back at the resort, we had a little downtime. Some of us enjoyed the pool and hot tubs, while others took a stroll to the clubhouse. Here we learned about Tracy P.'s love of flamingos. She found the blingiest, brightest pink flamingo hat we all adored.
That evening, we had a delicious meal at Rock & Brews. We spent roughly three hours there getting to know each other better because many of us had never met in person. Here, we got to learn a lot more about Tracy M. and her background in dance and administrative work at her children's schools and myBIMteam, then that both Cara and Jon are very passionate about the Star Wars Universe. The restaurant also had the best dessert, Purple Rain Drops, hand-rolled French "Beignet" style pastries filled with chocolate chips, raspberry sauce, and powdered sugar with whipped cream. Heather and Ryan played nice while eating most of these provided for the entire table of 15.
Following dinner, a rambunctious game of UNO was played between Jason, Jean, Cara, Bo, and Heather. We learned Jean and her family have created their own UNO rules, which may be legit, but the internet was divided on the topic. Anyway, Jean is a UNO master, but Jason knows how to stay under the radar and came back for the win even though his hands were overloaded with cards.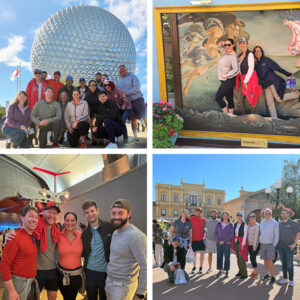 We spent day two at Walt Disney World Epcot. Thankfully, we captured this group photo before everyone took off, mostly sprinting in multiple directions. Cara was our Epcot guide, as she had strategies to avoid the long lines for rides. The favorites were Test Track, Soarin' Around the World, and Guardians of the Galaxy: Cosmic Rewind. We also took things slower by Traveling Around the World Showcase. Well, some of us went slower; we think Zach, Jon, and Eric ran around the world at least three times. We tried dozens of different food and drinks and, of course, did more shopping. Finally, we will remember all the friends we made along the way, like Minnie Mouse, Donald Duck, and Goofy. Tracy P. won the contest for meeting the most characters.
On our final day of fun in Florida, Troy made yummy pancakes for everyone as we slowly emerged from our rooms. We sat back and relaxed while planning our last day. Then, we had a spontaneous Rubik's cube lesson taught by Zach and Troy. Most of us didn't realize there were so many "simple" ways to solve a Rubik's cube. Later, Tracy M., Cara, Tracy P., Brie, Bo, and Heather went shopping, again, to ensure their suitcases were packed with souvenirs for the trip home.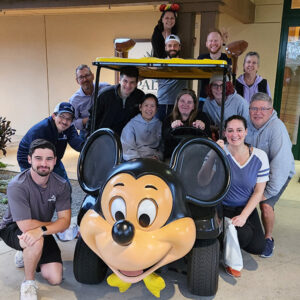 Then, it was off to foot golf. None of us had ever played this game before, which is now an activity we highly recommend. Our competitive spirit surfaced again as we kicked soccer balls along the course, and Greg had extra excitement as he fished his soccer ball out of the gator-infested waters. The winning team was Captain Matt, Jean, Greg, Zach, and Brie. The individual winner was Eric.
Finally, it was time for our bittersweet last night out. We enjoyed dinner at Villa Italiano Chophouse. We shared wine, appetizers, and even meals since there were several mouthwatering items on the menu. Matt told the story of going from a boat mechanic to a BIM Director, with Troy chasing him down because he wanted Matt to work with him, knowing he had the perfect skills and goals. Then, Brie suggested a game where we ask the table unique questions; for example, if we were stranded on a deserted island, what band or artist would we want to listen to forever?
All in all, it was a great retreat where we built positive relationships, reflected on successes, improved our communication and productivity, and fostered a sense of belonging to myBIMteam.